PLZ07 Maison 6 personnes Plouarzel
Maison / 6 Personne(s)
PLZ07
325€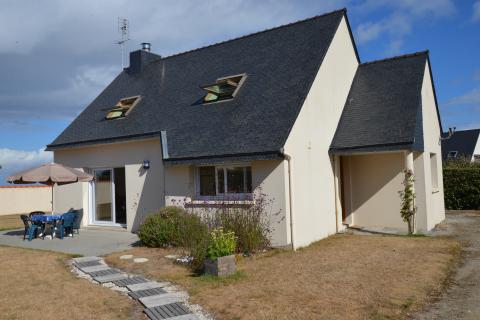 Pleasant 110m2 house close to the sea, in a quiet environment.
- Luminous rooms
- 4km from town center and grocery store located at PLOUARZEL.
- 800m from the beach and the GR34 path.
- Garage.
- Parking spot.
On the ground floor:
- Living room area with 2 club chairs, a bench seat, 3 armchairs a coffee table and a TV.
- Dining area with a table and 6 chairs.
- Equipped kitchen with dishwasher, fridge-freezer, oven, induction plates, cooktop hood, coffeemaker and kettle.
- First bedroom adjoining a private bathroom. Double bed (140) with quilt provided.
- Separate toilets.
On the first floor:
- Second bedroom with a double bed (140), quilt provided.
- Third bedroom with 2 single beds (90), quilts provided. Access to a small balcony with sea view and view of OUESSANT island.
- Bathroom with bathtub and toilets
- Relaxation room with a sofa and an armchair. Access to a small balcony with sea view and view of OUESSANT island.
- Playroom in the attic with darts.
- 900m2 garden.
- Garage.
- Washing machine and dryer.
Water and 100Kwh electricity are included during summer. Water included and actual electricity consumption during winter (from October the 1st to May the 1st). Electric heating and subfloor heating. If you want to bring your pet to the house, please contact us at booking via email or phone.
Attention, tous nos tarifs sont indiqués par semaine. Pour des périodes courtes et hors saison, merci de nous contacter directement par téléphone ou mail.
04/01 au 04/0402/05 au 23/0528/09 au 19/10
390€
04/04 au 02/0523/05 au 04/0729/08 au 26/0919/10 au 02/1121/12 au 04/01
468€
Lampaul Plouarzel, une commune au charme incontestable !

La commune de Lampaul Plouarzel compte quelques 2000 habitants et s'étend sur le littoral atlantique. Une commune tranquille à quelques pas de la mer !
Histoire de la commune
Saint Paul Aurélien était originaire d'une famille noble du pays de Galles. Premier évêque du Léon, il fut formé à l'école monastique de Saint Ildut (près du canal de Bristol). En compagnie de douze disciples et d'une nombreuse parenté, il s'embarqua pour l'Armorique vers 512. Il fit une première escale à Ouessant en baie de Lampaul puis débarqua sur le continent à Lampaul Plouarzel, à l'abri de la presqu'île de Beg Ar Vir, qui conserve, selon la tradition, dans un rocher, l'empreinte des genoux du saint homme. Cette plage de débarquement devint Porspaul.
Il construisit un ermitage au lieu-dit Lann Baol Goz (le vieux Lampaul), puis poursuivit sa route par Lampaul Ploudalmézeau pour atteindre l'île de Batz ou il se fixa. Il fut le fondateur de l'évêché du Léon en 530 et mourut à l'âge de 102 ans...
Une église fut bâtie à l'emplacement de l'ermitage. Les tempêtes de sables violentes et répétées des XVII et XVIIIè siècles, finirent par ensevelir totalement l'église de Lambaol Goz, ainsi que la chapelle voisine de St Egarec. Le lieu de culte fut alors transféré dans la chapelle St-Sébastien, actuelle église paroissiale. La chapelle, ne fut dégagée du sable qui la recouvrait qu'en 1838 et restaurée en 1948.
Patrimoine
Lampaul Plouarzel possède 3 sites incontournables à visiter lors de votre séjour :
Le sentier littoral du GR34
Les fours à goémon
Le port de Pors-Scaff
Maisons et appartements disponibles
Retrouvez toutes les locations de Lampaul Plouarzel dans la partie "Nos locations"