POD01 Maison 8 personnes Porspoder
Maison / 8 Personne(s)
Résidence : Maison propriétaire
200m from the beach. Garden. Fine decoration
POD01
340€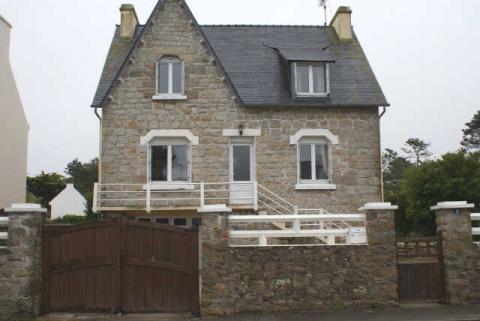 Distinguished house, 140m2, on an enclosed 600m2 plot.
- For 4 to 8 persons.
- 150m from the beach and from the small ARGENTON harbour.
On the ground floor :
- Living room area with 3 seater sofa, 2 armchairs, a coffee table, a bookcase, a TV and a DVD player.
- Dining area with a table, 8 chairs and 1 highchair.
- American kitchen with gas cooker, oven, fridge-freezer, dishwasher, microwave, kettle, toaster and food processor.
- Garage
- First bedroom with 2 single beds (90), chest of drawers and bookcase.
- Separate toilets.
- Conservatory with washing machine and dryer.
- Direst access to the backyard with patio furniture for 10 persons, parasol and barbecue.
On the first floor :
- Second bedroom with a double bed (140) with a crib provided if needed.
- Third bedroom with a double bed (140), a wardrobe and a sink.
- Fourth bedroom with a single bed (90), a child bed, a chest of drawers and a bookcase.
- Bathroom with bathtub, toilets and heated towel rail.
Water and 100Kwh electricity are included during summer. Water included and actual electricity consumption during winter (from October the 1st to May the 1st). If you want to bring your pet to the house, please contact us at booking via email or phone.
Price for 6 persons.
+ 40 € for 7 persons, + 80 € for 8 persons
Commentaire coup de coeur:
200m from the beach. Garden. Fine decoration
Attention, tous nos tarifs sont indiqués par semaine. Pour des périodes courtes et hors saison, merci de nous contacter directement par téléphone ou mail.
01/01 au 05/0205/03 au 09/0414/05 au 11/06
455€
05/02 au 05/0309/04 au 14/0511/06 au 25/06
525€
27/09 au 18/1001/11 au 20/12
425€
18/10 au 01/1120/12 au 03/01
495€
Porspoder, Cette commune au charme incontestable

Située sur la côte ouest du Finistère, à 30 km de Brest, Porspoder et ses quelques 1500 habitants vous feront craquer pour cette petit commune mémorable, pleine de charme ! Elle fait partie des communes les plus à l'ouest de l'Europe et fait face à l'Ile de Ouessant et de l'archipel de Molène.
Histoire de la commune
Porspoder vient du breton « porz » (port) et « poder » (potier).
Porspoder est un démembrement de l'ancienne paroisse primitive de Plourin. Porspoder est mentionnée comme trève de Plourin au XVème siècle (Couffon). C'est à Porspoder qu'aurait débarqué saint Budoc ou Buzeuc : "sur la grève de Porspoder, on vit aborder un jour une grande auge en pierre qui venait d'outre-mer en flottant sur les eaux. De cet auge se leva saint Budoc (Beuzec, qui veut dire noyé en breton)".
Porspoder devient paroisse au XVIIème siècle et commune en 1790. La paroisse de Porspoder dépendait autrefois de l'ancien évêché de Léon. La commune de Larret (Lazret en 1695), une des plus petites communes de France avec 143 habitants, lui est rattachée en 1970.
Patrimoine
Porspoder présente des sites remarquables qu'il vous faudra visiter pendant votre séjour dans cette magnifique commune :
L'église Saint-Budoc
La chapelle Saint-Léonor ou Lénord
Le manoir de Kermenou
Maisons et appartements disponibles
Retrouvez toutes les locations de Porspoder dans la partie "Nos locations"