LAN01 Maison 6 personnes Lannilis
Maison / 6 Personne(s)
Résidence : Maison propriétaire
Heated swimming pool
LAN01
325€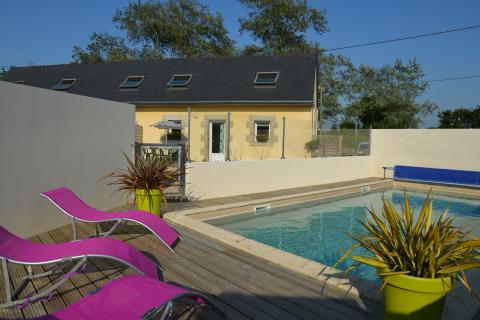 Lovely 55m2 house with shared swimming pool situated in a very calm environment. 3km from the beach, touristic activities, nautical center, hiking trails. 1,5km from the town center and all commodities. Semi-detached house with a private access overlooking a wooden terrace with patio furniture, facing west light. The 5x10m swimming pool is heated from May to September. A locked gate secures it and it is shared with the other two cottages. A barbecue is also shared with the two other cottages.
On the ground floor :
- Dining area with a table and 4 chairs
- Living room area with a coffee table, 2 small stools, a sofa bed, two chairs, a dresser and a TV.
- Kitchen area with fridge, small oven, microwave, glass ceramic cooktop, toaster, kettle, coffeemaker, hoover, high chair, iron, iron table.
- Bathroom with shower and independent toilets.
On the first floor :
- First bedroom with a double bed (140), an armchair and a chest of drawers. Provided crib if needed.
- Second bedroom with two single beds (90)
Water and 100Kwh electricity are included during summer. Water included and actual electricity consumption during winter (from October the 1st to May the 1st). Electric heating. Pets are not allowed in this house.
Commentaire coup de coeur:
Attention, tous nos tarifs sont indiqués par semaine. Pour des périodes courtes et hors saison, merci de nous contacter directement par téléphone ou mail.
02/04 au 07/0528/05 au 09/07
470€
Lannilis, une charmante commune

Lannilis est une commune du département du Finistère comptant près de 5300 habitants. Située sur la côte nord du département, à 25 km de Brest, son territoire est inséré entre deux abers, l'Aber-Benoît au sud-est et l'Aber-Wrac'h au nord-est, qui s'ouvrent sur l'océan Atlantique.
Histoire de la commune
La commune de Lannilis est issue de la paroisse du même nom. Celle-ci résulte elle-même d'un démembrement de la paroisse primitive de Ploudiner au xve siècle4, dont sont également issus les territoires de Landéda et Brouennou. Lannilis correspondait à l'ancien chef-lieu de Ploudiner. Ce n'est qu'en 1842 que la frontière communale avec Landeda, qui a absorbé Brouennou en 1829, est établie.
Selon l'hagiographie, en l'occurrence la Vie de saint Goueznou, écrite en 1019, la création de ce territoire remonte à saint Tudogilus. Ce personnage y est décrit comme père de plusieurs autres fondateurs, dont celui qui est l'objet de la Vita. Venant de Grande-Bretagne, il installe quant à lui son ermitage au lieu dénommé Lothonou ou Lothuznou en Ploudiner.
La paroisse de Lannilis faisait partie de l'archidiaconé de Kemenet-Ily relevant de l'évêché de Léon et était sous les vocables de saint Pierre et de saint Paul.
Patrimoine
Lannilis présente de nombreux trésors qu'il vous faudra absolument visiter pendant votre séjour dans cette bourgade :
L'église paroissiale
Les différentes et nombreuses chapelles
Le manoir de Kerdrel
Le Pont Krac'h
Maisons et appartements disponibles
Retrouvez toutes les locations de Lannilis dans la partie "Nos locations"